Patriot Guard Riders New York
Who We Are
PGRNY is a diverse group of patriots who come together to show respect and support to US service members, honorably discharged veterans, first responders, and their families by standing flag lines and providing escorts at memorial services, only at the request of the family. We also stand flag line for other events honoring veterans and military personnel by request. We do not have meetings, dues, or most of the other membership requirements of other organizations. Many of our members share a love of motorcycles and many are veterans, but neither is a requirement. The only thing our members do have in common is a deep feeling of appreciation of the sacrifices that our military and first responders have made and continue to make.
We are a 501(c)(3) nonprofit and 100% volunteer organization. Any donations received go directly to members of the Armed Services, veterans, families of deployed service members, and Gold Star families in need through our Help on the Homefront (HOTH) programs: Veteran's Financial Assistance Program and Veteran's Transition Assistance Program. A small portion of the funds raised goes to the families of veterans in the form of a plaque at memorial services.
Our Veterans Recovery Program has provided honor and respect to those who have served this country, by securing a final resting place for forgotten heroes.
Request A PGRNY Mission
"Standing For Those Who Stood For US"
Missions are one of the ways Patriot Guard Riders New York, Inc. (PGRNY) show support for US service members, veterans, and their families.

Missions vary greatly and can include standing flag lines or providing escorts to veterans for such diverse events as calling hours, gravesite services, the return home of veterans on Honor Flights and active military personnel from overseas assignments, as well as for ceremonies honoring veterans, etc. It is our honor to attend these missions and there are no fees or expenses incurred by the requesting family or organization.
Funeral Mission Requests
Our primary mission is to attend the funeral services for; military personnel, honorable discharged veterans, and first responders. This form must be completed by a family member. Our attendance is by request of the family only. Funeral mission requests may be to stand a flag line at the funeral home and/or church service; provide an escort to the cemetery, and/or stand a flag line at the cemetery. It is up to the family to determine how much representation they wish from PGRNY.
Event Mission Requests
These missions are are for any ceremony or event other than a funeral and can be made by an organization or individual. These requests may be to stand a flag line at the airport for returning veterans or active military personnel; stand a flag line for various ceremonies honoring veterans, provide escorts of veterans to various events, participate in parades as an escort to veterans, etc. It is up to the requesting organization or person to determine what type of representation is wanted from PGRNY.
Covid Information
Based on the most current COVID-19 Prevention Guidelines: Protect Yourself and Your Family from COVID-19, and CDC Guidelines of 3 March 2022, going forward, the Lead Ride Captain for any mission will be responsible for determining whether PGR members will have to mask up or not. Please ensure that you have a mask with you, should the need arise, and respect the LRC's decision in these matters.
Thank You Notes
For a complete listing of all Thank You Notes, visit the Thank You Notes page found in our navigation.
Announcements
For a complete listing of all Announcements, visit the Announcements page found in our navigation.
Our News
Acknowledgements
Rep. Zeldin Honors Patriot Guard Riders on House Floor. On April 12, 2018, Congressman Lee Zeldin (R, NY-1) honored the Patriot Guard Riders from Long Island and across the United States on the floor of the House of Representatives.
On August 15, 2015, the 70th anniversary of VJ Day, the Patriot Guard Riders of New York were honored to present a wreath at the Tomb of the Unknown Soldier in Arlington National Cemetery. To make this an even greater honor, we were accompanied and assisted by Dr Tom Smith, Sal Famularo and Francis "Dick" Varone, US Marine Corps veterans of WWII, participants in many battles in Pacific Theater of Operations, including the Battle of Iwo Jima.
It's not about us...
However, we received recognition for our efforts in the form of a proclamation from Sulfolk County Legislator Leslie Kennedy, 12th District. Patriot Guard Riders of New York attended and stood honoring Daniel Pierce, USAF on November 5, 2020. There was no known family to see him to his final rest. PGRNY was asked to stand and honor him as part of his family.
Thank you Legislator Leslie Kennedy.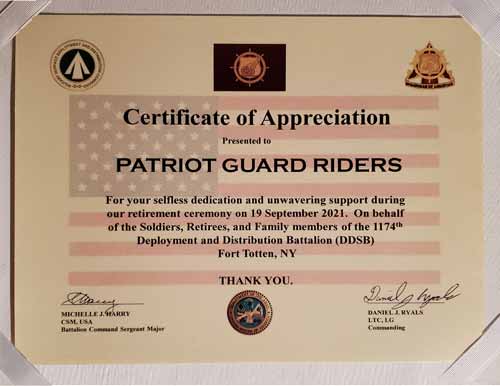 Honoring and being Honored...
PGRNY arrived at Ernie Pyle Center with our flags ready to stand a flag line but were asked to put them back in our bikes - "We have this one," we were told by the 1174th Deployment & Distribution Battalion Honor Guard, Fort Totten, NY.
We were invited to take seats in the front of the hall, that we were guests of honor today.
Toward the end of the Retirement Ceremony, we were asked to come up to the front to accept a Certificate of Appreciation from the Battalion, which was accepted on behalf of Patriot Guard Riders across the country.
Thank you on behalf of all PGR!