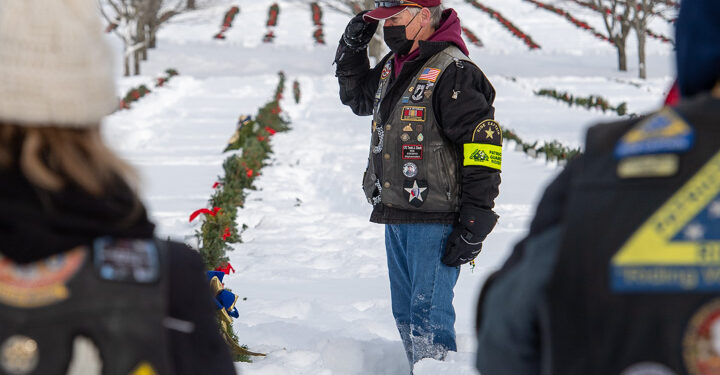 Wreaths being laid at Gerald B. Solomon Saratoga National Cemetery by PGRNY members.
Announcements
Wreaths Across America and Patriot Guard Riders Inc. Enter Partnership
(6/21/2023)
Nonprofits agree to work together to help support common missions for veterans and their families.
COLUMBIA FALLS, Me., and TULSA, Ok., – June 20, 2023 – Today, national nonprofit Wreaths Across America (WAA) is proud to announce the signing of a Memorandum of Understanding (MOU) with the Patriot Guard Riders (PGR) in an effort to build a stronger awareness for each group's common missions, while supporting events throughout the nation.
Founded in 2007, and headquartered in Columbia Falls, Maine, WAA is best known for its annual wreath-laying ceremonies each December. The organization's yearlong mission is to Remember the fallen, Honor those who serve, and Teach the next generation the value of freedom. Now in nearly 4,000 communities across the country, WAA volunteers are committed to sharing the mission through education and stories of service and success.
Founded as a national nonprofit in 2005 to shield families of fallen heroes from those that would disrupt the services of their loved ones, the Patriot Guard Riders has grown to include thousands of members across all 50 states. As the organization's membership has grown, so has the scope of its mission. PGR also honors first responders as well as military veterans. Additionally, the organization has an active Help on The Homefront (HOTH) program, which aids our veterans and their families.
The signed MOU between the two groups focuses on engagement with PGR members and WAA volunteers to create opportunities for joint community service activities that bring awareness to both groups' missions. PGR will expand its participation in the WAA Group Sponsorship Program – there are already more than 120 PGR groups participating nationwide – which raises awareness and sponsorships to place wreaths and support programming while offering PGR an option for fundraising for the important work they do in their communities year-round.
"Since WAA was founded, Patriot Guard Riders have been involved in the mission and its members play an important part in ensuring respect for our veterans and their families," said Karen Worcester, executive director of WAA. "Our combined efforts will no doubt help to shape and inform the next generation of patriots."
National President of PGR, Bob Dorey said, "Our membership is very supportive of the families of the fallen, as is Wreaths Across America! We are looking forward to working more collaboratively as we support these families and remember and honor their loved ones."
This year, National Wreaths Across America Day will take place on Saturday, December 16, 2023, at over 3,700 participating locations nationwide. "The experience of placing a wreath at the final resting place of one of our nation's veterans and understanding the healing that this simple gesture has for so many families and the opportunity it provides to share the stories of these heroes, makes this an important partnership," Bob concluded.