Every year in early December, scores of tractor trailer trucks leave Maine and make their way across the U.S. to deliver wreaths to Veteran's cemeteries. Wreaths which have been purchased by citizens for placement on the graves of our honored veterans at Christmas time.
Capital area Patriot Guard Riders have been a part of the volunteer effort that fund raises for and physically places these wreaths at the graves at Saratoga National Cemetery.
Hard to believe but it is that time of year again - time to begin to ramp up our efforts to see to it that as many wreaths as possible are able to be placed on the graves of our veterans at Saratoga National Cemetery.
For the 4th year in a row our ultimate goal was finally achieved – 12,000+ wreaths were able to completely cover every veteran's grave at the cemetery – this couldn't have happened without all your support.
Now is not the time to rest on our laurels. The cemetery inters over an additional 1000+ veterans every year – so we have to make sure we keep up with these increases.
If any of you should have any questions about the forms or about the Wreaths Across America program - please feel free to contact me at any time.
This is a voluntary program - participate or don't participate but spread the word about this wonderful program to others who you think may be interested.
DO YOUR PART – THEN TELL OTHERS.
Lets hope that this years efforts will exceed last years. Thank you for all your help.
Bill Schaaf
Patriot Guard Riders NY - State Captain
Veteran Recovery Program - NY State Coordinator
PGR NY Board of Directors - President
pgrnysc@gmail.com
billschaaf@aol.com
518-542-0608
The Patriot Guard Riders of Eastern New York have been granted Group Sponsorship status within the Wreaths Across America organization. So what does our Group Sponsorship status mean? Well for every two wreaths that are ordered - using our group code NY0057 -
WAA will donate another wreath - we get 3 for 2.
You will see on the order form that the appropriate cemetery designation for G. Solomon Saratoga National Cemetery is "NYGSNS" but just as important - the Sponsoring Group ID# is "NY0057" for the Patriot Guard Riders. Just complete the form and mail in check with your order and our sponsorship code will be credited. This form has been made as a fillable pdf document and all calculated fields are automatically calculated for you.
Next, click on the Local Sponsorship Group as show in the photo.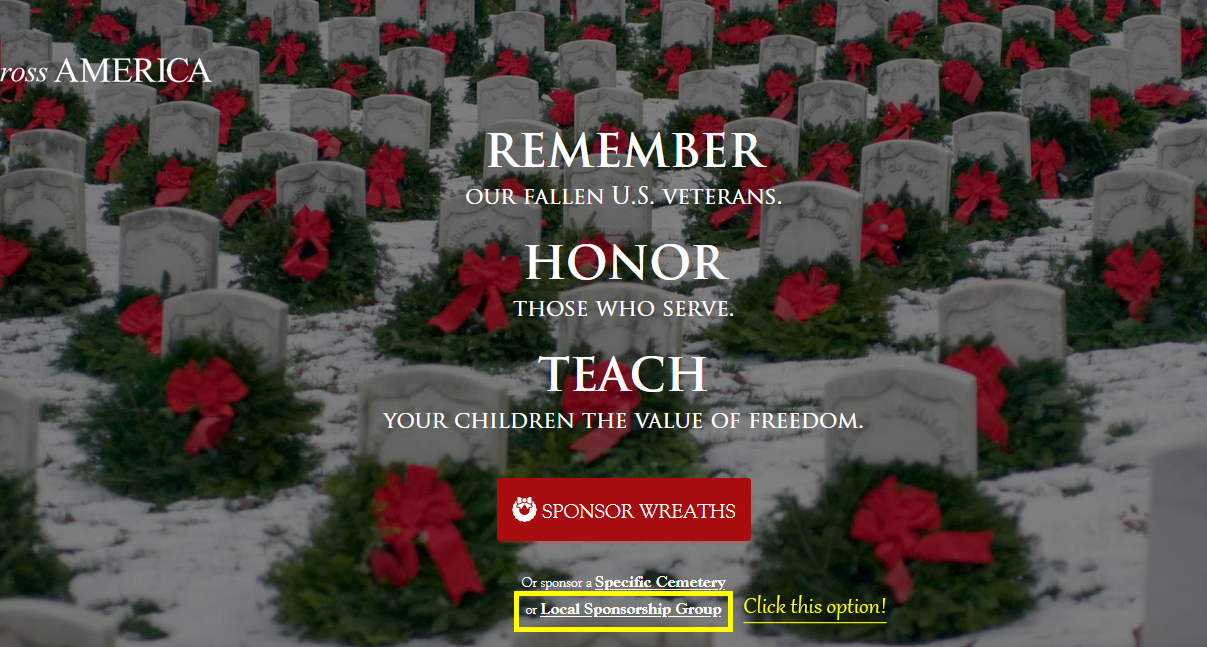 This screen appears: Please indicate the numbers of wreaths you wish to order then drop down to type in the NY0057 group code. The name of our group appears, Patriot Guard Riders of Eastern NY (NY0057) 25286. Click on this group name.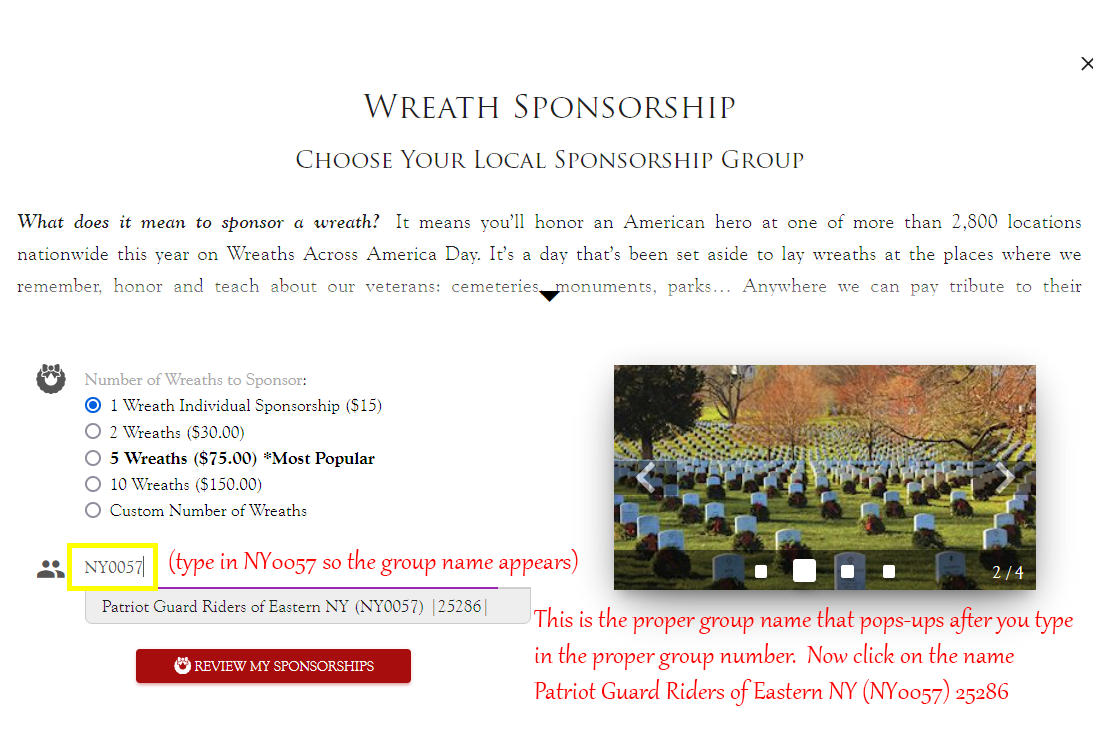 After clicking on the group name, the Gerald B Solomon Saratoga National Cemetery should automatically appear as the location to support.
Now click on REVIEW MY SPONSORSHIPS. This will take a minute and the next screen you see will be the payment screen.
The next screen will confirm the number of wreaths you have ordered as well as confirming the Sponsorship Code and Location Code you have selected. Click on START CHECKOUT
If you want to use a credit card as a guest through PayPal, click on the type of credit card you will use. If you want to use your PayPal account, click the yellow PayPal button.
Just continue to follow the screen prompts to make your payment and finalize you order - YOU'RE DONE!