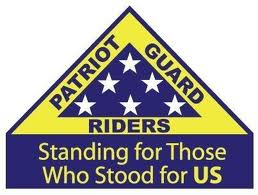 Click PGR logo to leave a message.
Brothers, Friends & Riders,
Wednesday, February 9th, 2011, Calverton National Cemetery will be having their monthly Memorial Service for those Veterans who were directly buried without a service during the month of January
Date: Wednesday February 9th, 2011

Time: 0950 AM (service starts at 1000AM - sharp)
Location: Calverton National Cemetery, Rte 25 Calverton, Long Island
Final staging: Calverton National Cemetery Visitor Rest area parking lot (bathrooms)
Detail: We will be standing for these Veterans that no family or friends were available at time of their funeral.

The Military Service which will be provided by the US. Army. Service is schedule to begin sharply at 1000 hrs. If there is a firing squad or Color Guard in attendance, we will follow their calls.
(NOA= No One Attended)

Ride Captain: TBD
Shelter: TBD once upon arrival (will not be assigned till morning)
Please as always have your flags available, you may inquire at the information center or the booth as to what shelter will be utilized. Please proceed to shelter on your own.
Thank you for all that you do ~
Ride Safe, God Bless ~

Frank Bania
US Veterans MC-Long Island, President
Patriot Guard Riders Region 9-NY, Senior Ride Captain
911-Veterans, Rally Coordinator
This email address is being protected from spambots. You need JavaScript enabled to view it. This email address is being protected from spambots. You need JavaScript enabled to view it.
631.294.5248
PO Box 675 Bellport NY, 11713