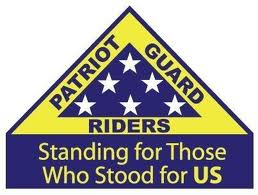 Click PGR logo to leave well-wishes
-Updated 03/11/2011-
~~~~PENDING MARCH 26...STATEN ISLAND HOMECOMING CANCELED~~~~

Thank you to all who responded, however, due to the unfortunate events in Japan, the HOMECOMING Mission for Michael Adams on March 26th in Staten Island is canceled until further notice.
Thank you again.
lucy
-Begin original mission posting-
We have been requested by Proud Navy Mom, Tanya Adams, to WELCOME HOME her son: Seaman Michael J. Adams, Jr. He will be arriving from Tokoyo landing at Newark on Saturday, March 26th at approx. 4:30pm. We will be coordinating with NJ PGR, PAPD, & FDNY to bring Michael home to Staten Island.
Although we can't possibly predict weather conditions at this time, if I could get a rough headcount of who would be interested in participating, bikes and support vehicles, it will help put together the mission successfully. Please keep in mind, if you DO NOT RSVP, it DOES NOT mean you cannot participate in the mission! As always, you may show up at any of the staging areas along the route to Staten Island. These will be posted the week of the mission. We are planning flaglines at the home as well as an escort to the home handed off at one of the crossings from NJ PGR.

Michael has been stationed on the USS George Washington since August 2009 after completing Naval Technical Training School and being sent to Japan.
He has been on many missions which includes ports in Singapore, South Korea, Phillipines, and Thailand. Please follow this link to read more about the USS George Washington: http://gw.ffc.navy.mil/

Eddie Esposito will be co-Lead Ride Captain. If you have any questions feel free to email myself or Eddie.
Eddie's email is ~ This email address is being protected from spambots. You need JavaScript enabled to view it.

Thank You. I look forward to having many of you turn out to give this Sailor a HUGE NY WELCOME HOME!!!

Peace & Love
Lucy

Lucy Christiano
Proud Army Mom 
President Blue Star Mothers of America, NY6
This email address is being protected from spambots. You need JavaScript enabled to view it.
RC ~ PGR NY Reg. 9
pgrny.org
631-774-9049