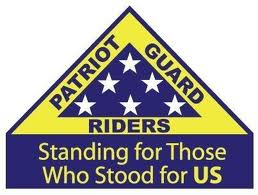 Other Mission
Special - Vietnam Medals, Veteran
USA, USN, USMC, USCG, USAF - Vietnam
Stony Brook, New York -

10 Jun 2017
---
ABOUT THE MISSION:
Stand flag line for ceremony by LIAFA to give medals to Vietnam Vets for their service.
PRIMARY STAGING DETAILS: 10 Jun 2017
Primary Staging Time: 1330 P.M.

Long Island State Veterans Home 100 Patriots Way
Stony Brook, New York - 11790
Ride Captain:

Pete Jepson

This email address is being protected from spambots. You need JavaScript enabled to view it.
Special Instructions:

Ceremony at

2:00 PM
Flags & Water:

Flags Will NOT Be Provided, Please Bring Your Own.
Large Bike Flags will NOT be needed.
Water WILL NOT be provided, please bring your own.