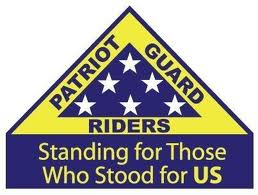 Special Mission
Bonacasa & Lemm Charity Hockey Game
USANG - Afghanistan
East Meadow, New York - 25 Mar 2017
---
Updated address of Ice Rink
ABOUT THE MISSION:
Riders & Patriots: We have been asked by Deb Bonacasa and Anthony Lagati to stand a flag
line at a charity hockey game that raises money for Veterans. This event is named after T/Sgt
Joseph Lemm and S/Sgt Louis " Bones" Bonacasa who were KIA in Afghanistan 12/21/15.
PRIMARY STAGING DETAILS: 25 Mar 2017
Primary Staging Time: 6:00 P.M.
Northwell Health Ice Rink
200 Merrick Ave.
East Meadow, NY
Ride Captain:
Pete Jepson
SRC Region 8&9
631-922-6330
Special Instructions:
Game time 7:00 P.M.
Donation of $10
Please bring your flags as I have a limited amount. Our participation is greatly appreciated at this
event as we did last year.
Pete Jepson
SRC Region 8 & 9
Patriot Guard Riders of NY
631-922-6330
This email address is being protected from spambots. You need JavaScript enabled to view it.