Click on PGR logo to leave condolences.
Patriot Guard Members,
We have lost another American Hero. The family of Robert Sutliff, Air Force Vietnam Veteran, has asked for our presence for his going home.
We will stand a flag fine at Saint Lawrence O'Toole Church, 13 Prospect St. Brewster, NY 10509
Robert wants motorcycles to escort since he was a HOG Member in Virginia.  We will escort to St Lawrence O'Toole Cemetery.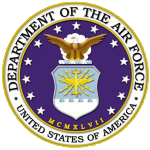 WEATHER PERMITTING.
Beecher Funeral Home, 1 Putnam Ave. Brewster, NY is in charge.
Funeral Mass: Thursday, 12/23/2010  11:00 AM
STAGING:  DD 1 (Dunkin Donuts on Route 202 in Yorktown Heights, NY)
9:15 AM 12/23/2010
KSU:  9:15 AM Sharp
Putnam County riders, you may meet us at the church for 10:00 Flag line.
Thank you for what you do.
John Tibbs, PGRNY Senior R/C
USMC 1957-1960
cell 914 649-8063