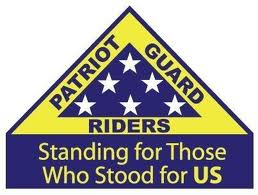 Click PGR logo to leave message
********* UPDATED  3/26/11 ***********
Again this year the PGR has been invited to attend NYS Yellow Ribbon Day.

This is one of those Feel Good Missions we rarely get to be part of. If you have not made this mission in the past you really have missed an honorable and fun mission.

It will be held at the Saratoga Wilton Elks Lodge at 1 Elks Way, Saratoga Springs, NY

Map - http://tinyurl.com/4mk63s9 .

There will be no pre-staging just meet at the Lodge.

Please arrive at the Lodge by 10:30 for the Flag Line.

Your LRC will be Big Dan Nolin

This email address is being protected from spambots. You need JavaScript enabled to view it.

Please remember after the ceremony to help your selves to Yellow Ribbons
hanging all over the place. Carol does not want to have to bring any home:)

-Respects,
(PK) Pastor Ken Hedden Sr
PGRNY R-4 Senior Regional Captain
http://www.pgrny.org
http://www.patriotguard.org
Hello All,
I just want to give you a heads up on an up coming. I am still working out the details but here are the brief details.
April 9th (Sat) is NYS Yellow Ribbon Day. Time will be 11:00AM will be held at the same place as in the past years at the Saratoga/Wilton Elks club.
This is one of my favorite Missions.  I may still be in the hospital after surgery on the 8th, even if I am released on the 8th I will not be able to attend this Mission this year.
I just wanted to get this info out to you so you mark your calendars of
these Missions coming up.
--
Respects,
(PK) Pastor Ken Hedden Sr
PGRNY R-4 Senior Regional Captain
http://www.pgrny.org
http://www.patriotguard.org