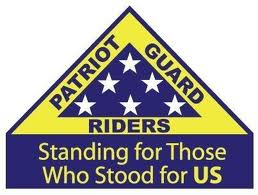 Special Mission
Yellow Ribbon Day Ceremony
Halfmoon, New York - 07 Apr 2017

---

ABOUT THE MISSION:
We have been asked by the Yellow Ribbon Lady, Carol Hotaling and the Blue Star Mother's to attend this years Yellow Ribbon Day Ceremony.

Blue Star Mother's have their goodies collection boxes set up if you would like to bring some items for them to send to the troops. Last year we had to stand down for a funeral and I have been told we were missed. Lets hope we can attend so we can continue to let people know what we do and how to contact us.

Dan Nolin
Senior Ride Captain
Region 4
Patriot Guard Riders of NY
This email address is being protected from spambots. You need JavaScript enabled to view it.

PRIMARY STAGING DETAILS: 07 Apr 2017
Primary Staging Time: 09:30 A.M.

Halfmoon Town Hall
2 Halfmoon Town Plaza
Halfmoon, New York - 12065
Ride Captain:

"Big Dan" Nolin


This email address is being protected from spambots. You need JavaScript enabled to view it.
Special Instructions:

Stage at 9:30 am for arrival of guests. Ceremony starts at 11:00 am
Flags & Water:

Flags Will NOT Be Provided, Please Bring Your Own.
Large Bike Flags will NOT be needed.
Water WILL NOT be provided, please bring your own.