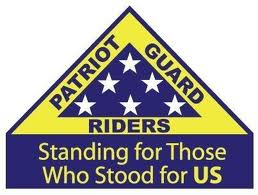 Special Mission
Veterans Night - "Welcome Home"

Troy, New York -

06 Jul 2017
---
ABOUT THE MISSION:
As we have for the past few years, the PGR has been asked to lead off the festivities during the Veterans Night "Welcome Home" recognition at the Valley-Cats Baseball Game on July 6th. Once again, our Flag bikes will circle the field on the warning track and stage along the 1st and 3rd base line prior to the Presentation of the Colors, and the rendering of the National Anthem.
PRIMARY STAGING DETAILS: 06 Jul 2017
Primary Staging Time: 1730 P.M.

Joe Bruno Stadium
HVCC Campus
Troy, New York
Ride Captain:

Martin Kaiser

This email address is being protected from spambots. You need JavaScript enabled to view it.
Special Instructions:

Parking for PGR bikes will be in the same place as previous years, just outside the ticket office. Tickets will be free to all PGR members (whether or not a Veteran), and will be distributed by Martin Kaiser, RC in the parking lot prior to the flag bike parade. A discount ticket rate of $8.75 (usually $12.00) will be available for any non-PGR family or friends you wish to bring along. Martin will be at the Joe Bruno Stadium on the HVCC Campus at approximately 1730 to begin ticket distribution. and money collection for the purchased tickets. Please bring the exact change to make the money easier to collect. We have a limited number of tickets so Martin needs to know how many PGR and non-PGR tickets he will need to obtain as soon as possible. Please email him at

This email address is being protected from spambots. You need JavaScript enabled to view it.

with that information. Game time and parking will be the same as in the past. Gates open at

6:00 PM

. The first pitch is exactly at 1900. The Valley-Cats field staff has really stressed how important it is for them to start the game on time, but we're always ready and waiting on the hill to roll. If you have any questions, feel free to contact Martin at the above email address.
Flags & Water:

Flags Will NOT Be Provided, Please Bring Your Own.
If you have large bike flags, please bring them.
Water WILL NOT be provided, please bring your own.