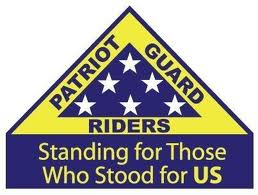 ***STAND DOWN***
Due to heavy thunderstorms in the area, this mission has been cancelled.
There is no rain date scheduled.

HOTH Mission
Military Appreciation Night

Albany-Saratoga Speedway
Ballston Spa, New York - 30 Jun 2017

---

ABOUT THE MISSION:
The Patriot Guard Riders have been invited to participate in opening ceremonies taking place during Military Appreciation Night at the Albany – Saratoga Speedway. Ceremonies will take place at 7:00 PM, and will recognize and honor all current and veteran military personnel, as well as those Gold Star Families in attendance.

Jimmy Duncan is a weekly Street Stock driver, and his car #771 carries the names of the fallen soldiers of the Albany Chapter 11 Gold Star Mothers. Jimmy is the husband of PGRNY member Justine Crowley-Duncan, and Ally Crowley-Duncan will sing the National Anthem and play the bagpipes. At the conclusion of the night's activities, there will be a fireworks display.

PRIMARY STAGING DETAILS: 30 Jun 2017
Primary Staging Time: 6:00 P.M.

Albany – Saratoga Speedway
2671 State Hwy 9
Ballston Spa, New York - 12020
Ride Captain:

Ray Sestak


This email address is being protected from spambots. You need JavaScript enabled to view it.


(518)669-3358
Special Instructions:

Staging at 6:00 PM in the main parking lot. PGR members will enter as a group and form a flag line along the infield area directly in front of the grandstands where the ceremonies will be conducted.

There will be no admission fee for any PGR member participating in this mission event.
Flags & Water:

Flags Will NOT Be Provided, Please Bring Your Own.
Large Bike Flags will NOT be needed.
Water WILL NOT be provided, please bring your own.