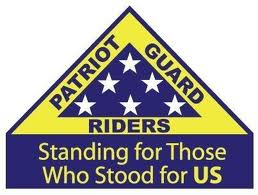 HOTH Mission
Military Appreciation Ceremonies
Altamont, New York - 16 Aug 2017

---

ABOUT THE MISSION:
The Patriot Guard Riders have once again been invited to attend the Military Appreciation Ceremonies scheduled to be conducted at the Altamont Fairgrounds on August 16, 2017. The ceremonies will be conducted by the American Legion Riders, Helderberg Post 977 and will include the Presentation of Colors and Flag Retirement ceremony. Guest speaker for the event is Gold Star Family member Colonel Jack Clark, US Army, (Ret.). Colonel Clark's son, U.S. Army Lt. Col. Todd Clark, an Albany native and father of two, died tragically Saturday, June 8, 2013, while serving in Afghanistan.

Upon conclusion of the ceremonies, a special "Blending the Veterans" event will take place in the Dutch Barn, directly behind the Northrup Stage. This event celebrates all armed forces, past and present, and is being hosted by Cindy Pollard, owner of the Homefront Cafe in Altamont.

Let's have a strong PGR show of support in honor of our military, veterans, Gold Star Families and our ALR brothers and sisters.

PRIMARY STAGING DETAILS: 16 Aug 2017
Primary Staging Time: 1:00 P.M.

Altamont Elementary School
Parking Lot
117 Grand St.
Altamont, New York - 12009
Ride Captain:

Don Miller Jr.


This email address is being protected from spambots. You need JavaScript enabled to view it.
Special Instructions:

Staging with the ALR members in the parking lot of the elementary school for group ride in. PGR will form a flag line for the ceremonies to be conducted at the Northrup Stage, as in years past.
Flags & Water:

Flags Will NOT Be Provided, Please Bring Your Own.
If you have large bike flags, please bring them.
Water WILL NOT be provided, please bring your own.

Submitted By: Ray Sestak
Position: Assistant State Captain