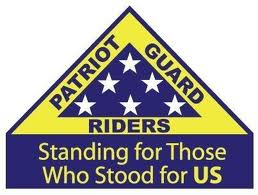 ***UPDATED 18 May 2017 - 09:31 HRS***
Please note updated staging address in RED below
HOTH Mission
Memorial Day Parade - Central Bridge, NY
Central Bridge, New York - 29 May 2017

---
ABOUT THE MISSION:
The Patriot Guard Riders have been, for the first time, invited to participate in the Central Bridge Memorial Day Parade on Monday, May 29th. While not a big or long parade, our presence can make a big impact on the people of this area, especially if we enjoy good weather.

The people of Central Bridge are not fully aware of the Patriot Guard Riders, who we are and what we do. This parade is an excellent way to allow them to experience part of what we do. Following the parade we may be asked to participate in a flag line during the brief ceremony, so please make sure you bring your flags. Let us see flags on our bikes as well.

Please check e-mails as we get closer to the date for possible up-dates.

PRIMARY STAGING DETAILS: 29 May 2017
Primary Staging Time: 08:30 A.M.

136 Church Street
United Methodist Church
196 Church Street


(Near River St.)

Central Bridge, New York - 12092
Ride Captain:

Don Macomber


This email address is being protected from spambots. You need JavaScript enabled to view it.


518.294.8808
Special Instructions:

Primary Staging time will be at 8:30 am for those who wish to participate in a social time with some honored veterans who will be participating in the parade. See note below.

Secondary staging, no later than 9:15 am

We have been invited to participate in a special coffee and donuts get together prior to the parade to honor veterans who will also be participating in the parade. As such, the organizers would like to get a general idea has to how many of us to expect. So, with this in mind, it would be very much appreciated if you could email the ride captain if you plan on attending.
Flags & Water:

Flags Will NOT Be Provided, Please Bring Your Own.
If you have large bike flags, please bring them.
Water WILL NOT be provided, please bring your own.