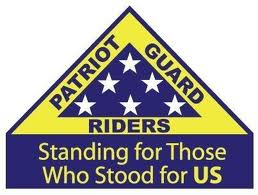 Dedication Mission
Blue Star Memorial Marker Dedication

Eden, New York -

10 Jun 2017
---
ABOUT THE MISSION:
The Blue Star Memorial Dedication is sponsored by the Eden Garden Study Club. The Memorial is located at the Eden American Legion Newell-Faulkner Post 880. The Eden Garden Club has been working on this project for 18 months. PGR is requested to provide a Flag Line for the Ceremony, as well as provide escorts for any Gold Star Families in attendance. The Request for this Mission was made quite some time ago, and was overlooked by the SRC. Saturday is a very busy day in Region-1, but please do whatever you're able to ensure there is decent PGR representation at this important event.
PRIMARY STAGING DETAILS: 10 Jun 2017
Primary Staging Time: 1000 A.M.

American Legion Post 880 2912 Legion Drive
Eden, New York - 14057
Ride Captain:

TBD - Please contact D Higgins if available
Special Instructions:

Legion Drive is East off Route 62. Landmarks are Eden Elementary School and Tim Horton's
Flags & Water:

Flags Will NOT Be Provided, Please Bring Your Own.

If you have large bike flags, please bring them.
Water WILL NOT be provided, please bring your own.