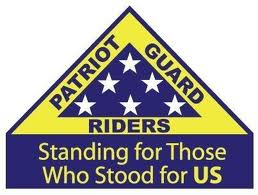 Special Mission
67th Anniversary Ceremony, Korean War

Pittsford, New York -

25 Jun 2017
---
ABOUT THE MISSION:
Fellow PGR members, Please join me in standing an honorable flag line on 6/25/17. It is the 67th anniversary of the start of the Korean War and we have been asked to help commemorate the occasion by attending a brief ceremony at White Haven Cemetery.
PRIMARY STAGING DETAILS: 25 Jun 2017
Primary Staging Time: 1830 P.M.

White Haven Cemetery
210 Marsh Road
Pittsford, New York
Ride Captain:

John McMullen LRC
Special Instructions:

We will stage at the cemetery entrance at

6:30 PM

for a

7:00 PM

start. Please bring your clean 3x5 flag.
Flags & Water:

Flags Will NOT Be Provided, Please Bring Your Own.
If you have large bike flags, please bring them.
Water WILL NOT be provided, please bring your own.