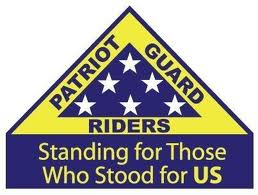 HOTH Mission
6th Annual Warrior Benefit Event Escort
Spencerport, New York - 12 Aug 2017

---

ABOUT THE MISSION:
We have been invited to once again join our American Legion brothers and sisters to provide an escort during their 6th Annual Warrior Benefit ride and concert. We will be escorting three very deserving veterans who have given of their bodies and minds to serve our country. The ride will start in Spencerport, NY and end at the Greece Legion where we will stand an honorable flag line for opening ceremonies.

**Note: We will have a short service at the Veterans Memorial at 9:00am

The Greece Legion will be donating proceeds of this event back to the PGR and our HOTH program so it is important that we be there to support the event! This does however conflict with Steve Ford's mission to pick-up and deliver for HOTH Saturday morning. Please do all you can to support both missions.

Click HERE to view the event flyer

PRIMARY STAGING DETAILS: 12 Aug 2017
Primary Staging Time: 08:30 A.M.

Union Street in Spencerport.
Parking lot across from Hollink Honda
Spencerport, New York - 14559
Ride Captain:

John McMullen


This email address is being protected from spambots. You need JavaScript enabled to view it.
Flags & Water:

Flags Will NOT Be Provided, Please Bring Your Own.
If you have large bike flags, please bring them.
Water WILL NOT be provided, please bring your own.


Submitted By: John McMullen
Position: Ride Captain