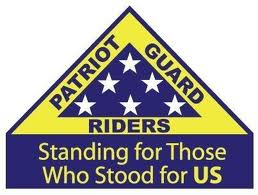 Special Mission
Dakota Grill Poker Run

Hilton, New York -

09 Jul 2017
Those of you that are going to the Dakota Grill for the
poker run for Honor Flight, and are near the North shore of Rochester, East side.
I will be at Dunkin Donuts in Irondequoit, Hudson and Titus Ave at

8:30 am

Sunday July 9, 2017
KSU at

8:45 am

heading to Dakota Grill.
---
ABOUT THE MISSION:
This is a Poker Run with proceeds to benefit HONOR FLIGHT of Rochester, $20.00 per person, music by Turner Brown, The Kid Kurry Band, and Bad Grandpas. There will be food and beer there.
PRIMARY STAGING DETAILS: 04 Jul 2017
Primary Staging Time: 09:00 A.M.

913 Roosevelt Highway (RT 18)
Hilton, NY
Ride Captain:

Bob Harder


This email address is being protected from spambots. You need JavaScript enabled to view it.


585-802-2288
Special Instructions:

First Bike out at 9am.

I would like to meet there and all PGR go out together at 10:am if it is possible, lets have a good turn out and support the Honor Flight of Rochester
Flags & Water:

Flags Will NOT Be Provided, Please Bring Your Own.
If you have large bike flags, please bring them.
Water WILL NOT be provided, please bring your own.
Submitted by:
Bob Harder


This email address is being protected from spambots. You need JavaScript enabled to view it.