Four Chaplains Brotherhood
Past Recipients of the Four Chaplains Brotherhood Award
Ray Sestak Accepts 50th Annual Four Chaplains Award
February 22, 2015
Albany Vietnam veteran Ray Sestak, right, accepts the 50th Annual Four Chaplains Brotherhood award from Todd Rosenfeld, commander of Albany Post 105 of the Jewish War Veterans, during a Sunday afternoon ceremony held in the chapel at the Stratton VA Medical Center in Albany.
Please see the entire write up below.
Duty Calls: Air Force Veteran Ray Sestak Earns Four Chaplains Award
He received the honor Sunday at a ceremony by the Albany Post 105 of Jewish War Veterans at Stratton Veterans Affairs Medical Center in Albany.
Sestak's actions reflect what the award commemorates: the sacrifice four military chaplains made after a German submarine sunk the USS Dorchester, a troop ship, on Feb. 3, 1943, off the coast of Greenland.
One of the four was Army Chaplain 1st Lt. Clark Poling, who ministered at the First Reformed Church of Schenectady before he enlisted.
The chaplains gave up their life jackets to others. Of the 902 troops, seamen and civilians aboard, just 230 survived.
Sestak's actions reflect selfless service to humanity without regard to race, creed, ethnicity or religious beliefs, said Richard Goldenberg, co-chairman of the Four Chaplains Committee and post adjutant.
Sestak served in the Air Force from 1967-71, flying combat reconnaissance missions with the 553rd Reconnaissance Wing in 1969-70 in the Vietnam War. The former sergeant earned two Air Medals, an Air Force Commendation Medal, an Air Force Outstanding Unit Award and a Good Conduct Medal.
After the war, he went to work for the state and retired in 2008 from the New York Lottery as chief information officer.
After retirement, Sestak became a transportation coordinator and volunteer van driver for Disabled American Veterans at the VA Medical Center. He has logged more than 3,600 volunteer hours.
He serves as a volunteer during an annual Homeless Veterans Stand Down as well as the Albany Memorial Day and Veterans Day parades. As Ride Captain with the Patriot Guard riders, Sestak coordinates and directs motorcycle escorts for veterans' funerals and supports the departures of veterans participating in the Honor Flight Network of flights to war memorials in Washington, D.C.
Sestak is a life member and vice president of the Capital District Chapter Eight of the Vietnam Veterans of America and a life member of the Veterans of Foreign Wars, Waterford Post 5800. He serves as the VA Voluntary Service representative for the Vietnam Veterans of America.
"Ray Sestak is a veteran who has made a difference, giving back to our fellow vets and our community," said Todd Rosenfield, JWV Albany Post 105 commander. "I can think of no better representation of the ideals of the Four Chaplains than Ray's service to help others. Where he saw a need to help others, he stepped up to do what's right, to do what's needed."
"Ray Sestak is a man of many hats, and an individual whose favorite word is 'yes' when he is asked to help," said Matt Sparks, a fellow DAV volunteer. "He is a go-to guy for so many organizations that capitalize on his intensity, ability, dedication and willingness to get things done. He is always ready to step up and help when asked, or even before he is asked, if he sees a need."
Sestak has worked on a national committee helping track down family members to retrieve DNA samples for final identification of remains of World War II and Korean War service members.
He has worked on the logistics team of Equinox, getting supplies, equipment and food that feeds almost 10,000 Albany residents every Thanksgiving. Sestak volunteers at the Capt. John C. McKenna IV Military Courtesy Room at Albany International Airport, a place for rest and relaxation for traveling military members.
He typically works three or four shifts a week transporting emergency blood throughout the American Red Cross New York-Penn Region Blood Transport Division.
"In the past year alone, Ray has driven for over 128 separate runs, usually to more than one location in a run, delivered 76 stats (emergency blood deliveries) to hospitals, traveled 18,068 miles and gave 510 hours of his time to make a difference," said Barbara Berberich, volunteer representative for the Red Cross unit. "Ray is a dedicated, caring, loyal, friendly and responsible individual. We are so very fortunate to have him."
Article in Times Union Newspaper
George Duguid accepts Annual Four Chaplains Award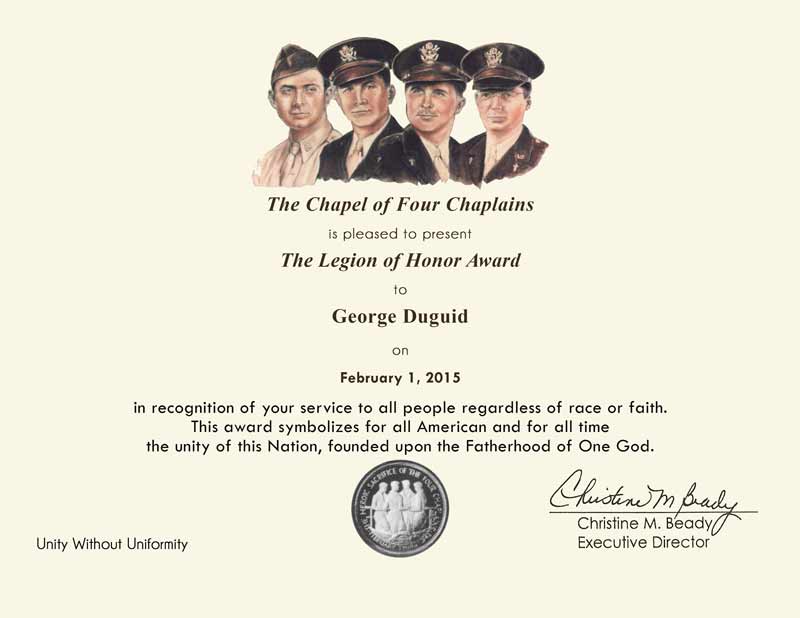 February 1, 2015
George W. Duguid accepted the Four Chaplins award along with other volunteers at the Northport Veterans Hospital in Northport, NY.
The award was presented in conjunction with the Disabled Veterans Association who sponsored vans that transported patients to and from the VA hospitals 5 days a week from various locations throughout Long Island.
George volunteered over 3,500 hours, as well as over 75,000 miles of driving.
George W. Duguid is a veteran of the US Air Force and retired Nassau County NY Detective with 33 years of service. Upon his retirement he volunteered as a driver picking up veterans at their residence and delivering them to the Northport VA hospital for treatment and then returning the veterans to their residence. This required volunteering at minimum one day a week to up to 5 days a week with hours starting at 6am to at least 3pm. Trips per day were a minimum of 50 miles. Some trips required picking up veterans in New Jersey and "upstate" NY.
George and his wife raised 2 sons who followed him into careers in the police department and both sons were involved in the 9-11 recovery process. George and his wife Diane have 3 grandchildren.
George is an active PGRNY member and attends Honor Missions in his area.
At the time of this writing we are waiting on photos from George Duguid.
Please notify the webmaster if you are a PGRNY member and have received the Four Chaplains Brotherhood Award.