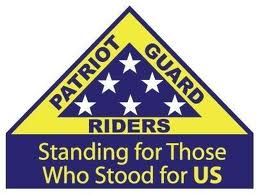 Honor Mission
Nathan W. Chase

ARNG - WoT
Ballston Spa, New York - 11-15-18
ABOUT THE MISSION:
The family of Nathan William Chase has requested Patriot Guard Rider participation at his funeral services. Nathan, 28, passed on Sunday, November 11, 2018.

Nathan served in the Army National Guard during the War on Terror. He was an electrician and builder and was a highly motivated and intelligent young man who was larger than life. He had a passion for music and could often be heard singing his favorite tunes. He was an animal lover and enjoyed spending time with the children and his family.

Portions of the above narrative are contained in Nathan's obituary, available for viewing online at the Armer Funeral Home website here:
https://armerfuneralhome.com/nathan-william-chase

The Patriot Guard Riders will be there to render honor dignity and respect for his service
PRIMARY STAGING DETAILS: 11-15-18
Staging Time: 5:00 p.m.

Armer Funeral Home
39 East High St.
Ballston Spa, NY 12020
Ride Captain:
Bruce Barger
bbarger103@aol.com
Special Instructions:
We have been asked by the funeral home to please not arrive too early for this mission. We will stand flag line for calling hours between 5:00 and 7:00 p.m. There is no burial service scheduled at this time. A service will follow calling hours.
Flags & Water:
Flags will not be provided
Large Bike Flags will NOT be needed.
Water WILL NOT be provided, please bring your own.
Submitted By: "Big Dan" Nolin
Position: Senior Ride Captain, R4
dan1nolin@yahoo.com