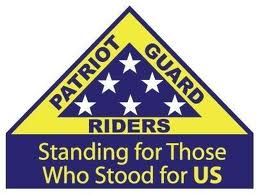 Honor Mission
Lt. Brian S. Strobele

Buffalo P.D. (Retired)
Orchard Park, New York - 09-21-18
ABOUT THE MISSION:
The family of retired longtime Buffalo Police Lieutenant Brian S. Strobele has requested that the Patriot Guard Riders stand in his honor. Lt. Strobele, 53, passed on Sunday, September 16, 2018.

Lt. Strobele was a graduate of St. John the Evangelist grade school in South Buffalo and a 1982 graduated from Hutchinson-Central Technical High School. Later, he was offered jobs by both the Buffalo Fire Department and the United States Postal Service, but chose the police department, which he joined in 1986. Early in his career, he was assigned to guard the City Hall office of then-Mayor James Griffin. Lt. Strobele retired after 31 years of service to the Buffalo PD.

Portions of the above narrative are contained in the Buffalo News article about Lt. Strobele, available for viewing online at:
https://buffalonews.com/2018/09/19/brian-s-strobele-53-longtime-buffalo-police-lieutenant-called-tough-and-kind/
PRIMARY STAGING DETAILS: 09-21-18
Staging Time: 1:00 p.m.

James W. Cannan Funeral Home, Inc
3155 Orchard Park Road
Orchard Park, New York 14127
Ride Captains:
Don Becker
dbecker97545@roadrunner.com
Joe Joyce
jjoyce82abn55@yahoo.com
Special Instructions:
Mission is for flag line during visitation hours of 2:00 - 8:00 p.m. Please give what time you can to honor Lt. Strobele's 31 years of law enforcement service to our community.
Flags & Water:
Flags will not be provided
Large Bike Flags will NOT be needed.
Water WILL NOT be provided, please bring your own.
Submitted By: Don Becker
Position: Ride Captain, R1