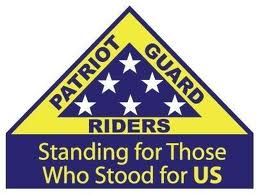 HOTH Mission
Dutchess County
"Year of the Veteran" Parade

Poughkeepsie, New York - 09-30-18
ABOUT THE MISSION:
The Dutchess County Division of Veterans Services has invited the Patriot Guard Riders to participate in the "Year of the Veteran" Parade in Poughkeepsie, NY.
Commemorating the 100th anniversary of the end of fighting in World War I, veterans from throughout Dutchess County will march in the parade throughout the City of Poughkeepsie, stepping off from 22 Market Street and concluding at Waryas Park, a distance of about 1 mile.
A special event for Gold Star Families will be held at Waryas Park at the conclusion of the parade.
PRIMARY STAGING DETAILS: 09-30-18
Staging Time: 12:00 p.m.

Corner of Cannon and Market Streets
Poughkeepsie, NY 12601
Ride Captain:
Bob Boisvert
raboisvert47@gmail.com
Special Instructions:
Parade steps off at 1:00 p.m. from the staging area. PGR may be requested to stand a flag line during ceremonies at Waryas Park, so please bring a clean 3 x 5 flag.
Flags & Water:
Flags will not be provided
If you have a large flag bike, please bring it.
Water WILL NOT be provided, please bring your own.
Submitted By: Ray Sestak
Position: Assistant State Captain