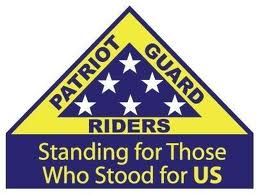 SPECIAL EVENT - HONORING
"Vintage" Bill Blair
U.S. Army, Korean Veteran - PGRNY Member - Fire Service
Lancaster, NY - 29 May 2018
ABOUT THE EVENT:
As many of you are aware, the health of one of our most faithful, most loved PGRNY members is failing rapidly. This Special Event Mission is to Honor "Vintage" Bill Blair, a proud U. S. Army Korean War Veteran, a former Fire Service member, and a former long time Boy Scout Leader.
PRIMARY STAGING DETAILS:
TIME: 11:30 A.M.
Town Line Fire Department
6507 Broadway Street (Rt. 20)
Lancaster, NY 14086
Map: https://www.mapquest.com/us/ny/lancaster/14086-9544/6507-broadway-st-42.890846,-78.580148
Ride Captain:
Don Higgins
SPECIAL INFORMATION:
Our plan is to Honor Bill Blair at a get-together at the Fire Hall, starting at 12:30 P.M.. Hopefully his health will be good enough to allow his family to bring him over from his home.
Please Note: This is intended to be a SURPRISE event, please DO NOT mention anything to Bill.
Lunch food and water will be provided.
Please bring your clean 3x5 American Flag or US Army Flag.
Please do whatever you are able to participate in Honoring our friend, "Vintage" Bill
Submitted By: Don Higgins
Position: SRC, R-1