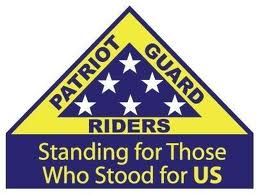 Memorial Mission
Town of Colonie Memorial Day Ceremony
Colonie, New York - 24 May 2017
---

ABOUT THE MISSION:
The Patriot Guard Riders have once again been invited to participate in the Town of Colonie Memorial Day Ceremony. This event will be a time to remember those sacrifices made by all military personnel and veterans in service to their country. This is always a well-attended event, with military themed organizations participating

PRIMARY STAGING DETAILS: 24 May 2017
Primary Staging Time: 5:00 P.M.

The Crossings of Colonie
580 Albany Shaker Road
Colonie, New York - 12211
Ride Captain:

Bill Schaaf.
billschaaf@aol.com

Ray Sestak
rayspgrny@gmail.com
Special Instructions:

Staging in the main parking area. Members will establish a flag line to receive dignitaries and guests outside the Main Meeting Room. Flag line re-forms inside for program beginning at 6:00 PM.. Upon conclusion, PGR will re-form near the Veterans memorial for wreath placement.
Flags & Water:

Flags Will NOT Be Provided, Please Bring Your Own.
Large Bike Flags will NOT be needed.
Water WILL NOT be provided, please bring your own.