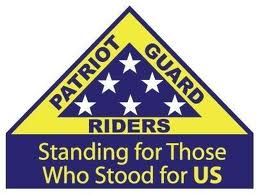 HOTH Mission
Wreaths Across America

Jamestown
Jamestown, New York - 12-15-18
ABOUT THE MISSION:
The Patriot Guard Riders have been invited by the Civil Air Patrol - Jamestown Composite Squadron, to stand a Flag Line for their Wreaths Across America Ceremony. Jamestown Composite Squadron was the first location in NY State to volunteer to host the Wreath-Laying Ceremony.
PRIMARY STAGING DETAILS: 12-15-18
Staging Time: 11:30 a.m.
Lakeview Cemetery (Soldiers' Circle)
907 Lakeview Avenue
Jamestown, NY 14701
Map: http://mapq.st/2RRE6Pk
Ride Captain:
Bob Caldwell
racaldwell5@yahoo.com
Special Instructions:
Ceremony begins at 12:00 p.m.
Please arrive promptly and be in place no later than 11:45. American Flags will already be in position.
Please dress for the weather, and do what you're able to participate in this special event.
Flags & Water:
Flags will be provided.
Large Bike Flags will NOT be needed.
Water WILL NOT be provided, please bring your own.
Submitted by:
Don Higgins, SRC, R-1
gladiator6988@hotmail.com