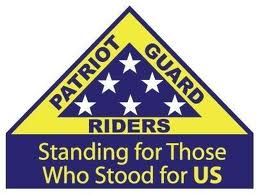 Memorial Mission
Special Holiday Wreath Laying

Schuylerville, New York - 12-15-18
ABOUT THE MISSION:
1:15pm-1:30pm - Approx - Patriot Guard Riders will be conducting a special wreath laying for 13 military, Law Enforcement veterans who have given of their lives in service to their country, as well as the three Medal of Honor recipients buried in Saratoga National Cemetery. This special ceremony will begin in the front Columbarium/Garden Niche section and move thru Section 21, 7 and 8, concluding at Columbarium B.
PRIMARY STAGING DETAILS: MM-DD-YY
Staging Time: 1:15 p.m.

Saratoga National Cemetery
Front Columbarium/Garden Niche Section
200 Duell Rd
Schuylerville, NY 12871
Ride Captain:
Bill Schaaf
billschaaf@aol.com
Special Instructions:
Parking TBD - Cemetery is considering letting PGR members access to the cemetery parking along right side of the road. If not approved, parking will be on the frozen ground behind Sections 1, 2 and 3. Look for access road and volunteers giving directions.

Look for updates in your email.

It's Winter so it will be cold. Be prepared to walk distances.
Flags & Water:
Flags will not be provided
Large Bike Flags will NOT be needed.
Water WILL NOT be provided, please bring your own.
Submitted By: Bill Schaaf
Position: State Captain