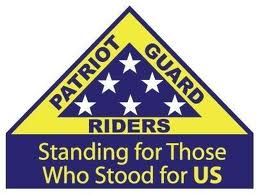 Memorial Mission
Honor and Remember

Alan Howardell
US Army - Vietnam


Altamont, New York - 12-15-18
ABOUT THE MISSION:
The Patriot Guard Riders have been invited to attend the ceremony, as an Honor and Remember Flag is presented to Pat Howardell, widow of Alan Howardell.

Alan served with the 121st Aviation Assault Helicopter Company during the Vietnam War from November of 1964 to November of 1965. He was a door gunner, crew chief and provided airmobile support to other units in the Mekong Delta. Alan died of pneumonia in December of 2010, due to Parkinson's Disease, directly attributable to exposure to Agent Orange. Pat is a member of the Patriot Guard Riders, and served as Vermont State Captain for a time.
PRIMARY STAGING DETAILS: 12-15-18
Staging Time: 3:00 p.m.

American Legion Post 977
988 NY 156
Altamont, NY 12009
Map: https://goo.gl/maps/uTEordtWsH72
Ride Captain:
Ed Czuchrey
edwcdhr@gmail.com
Special Instructions:
PGR members to stand a flag line during the flag presentation ceremony.
Flags & Water:
Flags will not be provided
Large Bike Flags will NOT be needed.
Water WILL NOT be provided, please bring your own.
Submitted By: Ray Sestak
Position: Assistant State Captain
rayspgrny@gmail.com