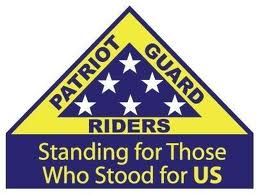 HOTH Mission
Leatherstocking Honor Flight Welcome Home
Colonie, NY - 10-27-18
ABOUT THE MISSION:
As always, the Patriot Guard Riders will be on hand to welcome home our military veterans from their Leatherstocking Honor Flight visit to Washington, D.C..
Let's be there in numbers to provide a Welcome Home for these veterans who served their country with Honor, Dignity, and Respect.

PRIMARY STAGING DETAILS: 27 Oct. 2018
Primary Staging Time: 10:45 p.m.
Albany International Airport
Albany Shaker Road
Albany, NY 12211
Ride Captain:

Special Instructions
We will stage on the 2nd floor, near Dunkin Donuts.
Scheduled arrival time is 11:10 p.m.

Flags & Water:
Flags will NOT be provided. Please Bring Your Own
Large Bikes will NOT be needed.
Water WILL NOT be provided, please bring your own.
Submitted by: Donald Macomber
Title: Ride Captain, R-5