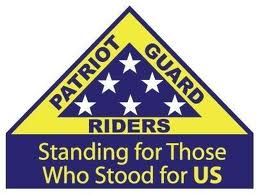 HOTH Mission
9th Annual
Brunswick HOG
Toys For Tots Event

Brunswick, New York - 10-21-18
ABOUT THE MISSION:
Members:
This year - as in years past - the Brunswick, NY HOG Chapter, in conjunction with the Marine Corps Reserves, is sponsoring their Toys For Tots Event, one of the largest events of its kind anywhere. Last year over 500 motorcyclists participated in the Toys For Tots run.
For the 9th year the Brunswick HOG Chapter has invited the Patriot Guard Riders to participate, as a lead group in the escort for this worthwhile event. The NY PGR will participate in this Special Mission event on Sunday, October 21st - RAIN OR SHINE.
Brunswick HOG will be hosting this open event, serving refreshments until 11:45am. A 50/50 raffle will be held prior to departure. Holiday bike decorations are encouraged. Event sponsored in part by LT's Grill/Andy's Catering - post event gathering at LT's Grill, 2305 Nott St. East, Niskayuna, NY.
Patriot Guard Riders - come join with 500+ of your close friends on Sunday, Oct 21st. and help brighten the lives of some needy young children for the holidays. Always a good time for a great cause.
Oh - if you can, fly your flags on your bike.....road worthy up to 45 mph for this run. Thanks everyone - hope to see you there on Sunday, Oct 21st. - Rain or shine........
PRIMARY STAGING DETAILS: 10-21-18
Staging Time: 10:30 a.m.

Walmart Parking Lot
Brunswick Square
760 Hoosick Road
Route 7
Troy, New York - 12180
Ride Captain:
Bill Schaaf - State Captain
pgrnysc@gmail.com
Special Instructions:
PGR members should stage in the Walmart Parking lot right on Rt-7 (Brunswick) - can't miss it - At 11:00am PGR will then move as a group about a mile down the road to:
Brunswick Harley-Davidson
1130 Hoosick Rd.
Troy, NY
12:00 Noon – KSU - The Toys for Tots motorcycle run will leave from Brunswick HOG and end at the LT's Grill/Andy's Catering - 2305 Nott St. East, Niskayuna, NY. The motorcycle parade will travel thru Troy, Waterford. Clifton Park, Niskayuna, Schenectady and Glenville.
For PGR members who do not stage at the Wal-Mart location - it is most important that you enter the Brunswick Harley Davidson location into the large parking lot to the West of the store building - NOT the main entrance.
Price of participation - a NEW un-wrapped toy per person for a needy area child or a $10 cash donation.
Flags & Water:
Flags will not be provided
If you have a large flag bike, please bring it.
Water WILL NOT be provided, please bring your own.
Submitted By: Bill Schaaf
Position: State Captain
billschaaf@aol.com