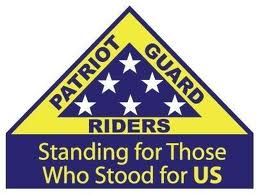 Memorial Mission
Gold Star Family Wreath Laying Ceremony

Pittsford, New York - 09-30-18
ABOUT THE MISSION:
The Gold Star Family Members have requested the Patriot Guard Riders to be in attendance as they lay roses and wreaths at the base of the Gold Star Families Memorial. "We Will Never Forget"
PRIMARY STAGING DETAILS: 09-30-18
Staging Time: 1:30 p.m..
White Haven Cemetery
Gold Families Memorial
210 Marsh Rd
Pittsford, NY 14534
Ride Captain:
Greg Sheldon
gsheldonpgr@gmail.com
585-315-8307
Special Instructions:
The Ride Captain will provide instructions at the staging.
Flags & Water:
Flags will not be provided.
Large Bike Flags will be needed.
Water WILL NOT be provided, please bring your own.
Submitted By: Greg Sheldon
Position: Ride Captain