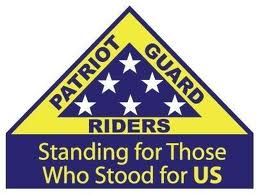 ***UPDATED 09/21/2018 - 08:15 Hrs.***
Weather-related update in Special Instructions
Memorial Mission
POW/MIA Watchfire
Baldwinsville, New York - 09-21-18
ABOUT THE MISSION:
The Baldwinsville VFW has requested the Patriot Guard participate in their POW/MIA Watchfire event. They would like us to enter on our bikes with the American, POW/MIA, and VFW flags to start off the ceremony.
PRIMARY STAGING DETAILS: 09-21-18
Staging Time: 6:00 p.m.
Dunkin Donuts
34 E Genesee Street
Baldwinsville, NY 13027
Map: https://www.google.com/maps/place/Dunkin'+Donuts/@43.1588091,-76.3305184,17z/data=!3m1!4b1!4m5!3m4!1s0x89d9e4f805136f01:0x2b968059e4e243da!8m2!3d43.1588091!4d-76.3283297
Ride Captain:
Bruce Dauer
brdauer@gmail.com
315-699-8272
Special Instructions:
We will ride around the corner from Dunkin Donuts to the VFW, and spread out at the monument to hand the flags off to the ceremonial leaders.

UPDATE - The POW/MIA Watchfire mission at the Baldwinsville VFW for this evening has been moved inside due to expected foul weather. The organizers have extended an invitation to the PGR to join them anyway, and the watchfire has been moved to 7:30 pm on Saturday.

Flags & Water:
Flags will not be provided.
Large Bike Flags will be needed.
Water WILL NOT be provided, please bring your own.
Submitted By: Bruce Dauer
Position: SRC, R-3