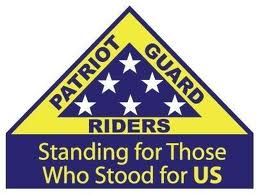 Memorial Mission
Monroe Community College
9/11 Remembrance Ceremony

Brighton, New York - 09-11-18
ABOUT THE MISSION:
The Monroe Community College Student Government has asked the Patiot Guard Riders to stand a flag line at the Annual 9/11 Remembrance Ceremony. The ceremony will be conducted at the concrete memorial at the college which depicts the World Trade Center Towers. The Memorial was built in 2002 as a result of the efforts of several MCC student leaders.
PRIMARY STAGING DETAILS: 09-11-18
Staging Time: 07:30 a.m.

Monroe Community College
1000 E Henrietta Rd,
Rochester, NY 14623
https://goo.gl/maps/78qbGTuQcNH2
The Memorial is located in parking lot G on the back side of the campus, near the soccer field
Ride Captain:
Bob Harder
bharder3@rochester.rr.com
Special Instructions:
Ceremony begins at 08:00 a.m. To find the area for the Memorial, enter on Brighton Henrietta Town Line Road at the light, and turn right around the back side of the campus.
Flags & Water:
Flags will not be provided
Large Bike Flags will NOT be needed.
Water WILL NOT be provided, please bring your own.
Submitted By: Bob Harder
Position: Ride Captain, R2