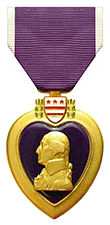 Special Mission
Purple Heart Commemoration and Sign Reveal
Geneseo, New York - 08-07-18
ABOUT THE MISSION:
The Patriot Guard Riders have been invited to participate in the Livingston County Purple Heart Commeration Day.
August 7th is the nationally-recognized Purple Heart Commemoration Day. This past February, the Livingston County Board of Supervisors passed a Resolution declaring Livingston County as a "Purple Heart County."
This ceremony will serve to commemorate Purple Heart Day, as well as reveal the new road signs that will be installed on highways entering the County.
It is expected that attendees will include Federal & State representatives, County leaders, VFW, American Legion, and Veterans.
PRIMARY STAGING DETAILS: 08-07-18
Staging Time: 10:00 a.m.
Livingston County Government Center
Board of Supervisors Assembly Room, 3rd Floor
6 Court Street at Avon Road (Rt. 39)
Geneseo, NY 14454
(Watch for signs)
Map: http://mapq.st/2F9xMvX
Ride Captain:
Don Higgins
gladiator6988@hotmail.com
Special Instructions:
Please arrive on time with a clean 3x5 American Flag or Military branch flag of your choice.
Ceremony is scheduled to begin at 11:00 AM, and expected to be approximately 40 minutes long.
Snacks will be available afterwards.
Purple Heart recipients among our PGR members are especially encouraged to attend.
Thank you for taking time to help Honor and Commemorate Purple Heart Day and our Combat-Wounded Veterans.
Flags & Water:
Flags will not be provided.
Large Bike Flags will NOT be needed.
Water WILL NOT be provided, please bring your own.
Submitted By: Don Higgins
Position: SRC, R-1