Honor Mission
Daniel M. Thiebolt,, Veteran
USMC, LEO - Vietnam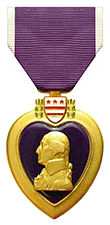 Tonawanda, New York - 22 Feb 2018

---

ABOUT THE MISSION:
We have been requested to stand in Honor of another Vietnam War Hero. Daniel M. Thiebolt of Tonawanda passed away on February 18th at the age of 70. Mr. Thiebolt served in the US Marine Corps from 1968-1969, including 5 months in Vietnam. With an MOS of 0331-Machine Gunner, he served with A Co., 1st Battalion, 28th Marine Regiment, 5th Marine Division. Mr. Thiebolt was wounded in action on 17 March 1969, and was Honorably Discharged with the rank of PFC (E-2.) For his Vietnam War Service to our Nation, PFC Thiebolt was awarded: Purple Heart Medal; Combat Action Ribbon; National Defense Service Medal; Vietnam Service Medal; Vietnam Campaign Medal; M-14 Rifle Marksmanship Badge. Mr. Thiebolt went on to serve a 26-year career as a City of Tonawanda Police Officer, retiring in 2001 as a Lieutenant. Obituary:
http://buffalonews.com/2018/02/20/thiebolt-daniel-m/

PRIMARY STAGING DETAILS: 22 Feb 2018
Primary Staging Time: 9:00 A.M.

Ride Captain:

Special Instructions:
Flag Line for arrival of family and friends.
Mass of Christian Burial at 10:00 AM.
Followed by Dignified Escort to Mt. Olivet Cemetery for Burial with Military Honors.
Please arrive on time with a clean 3x5 American Flag or USMC flag and dress for the weather. Please ensure your large flags are properly placed and securely attached.
This will be two days in a row that we stand for USMC Vietnam War Purple Heart Awardees, and the families were friends of each other.
Please do whatever you're able to help Honor the Military and Law Enforcement Service of Mr. Thiebolt, and to support his loving family.

Flags & Water:
Flags Will NOT Be Provided, Please Bring Your Own.
If you have large bike flags, please bring them.
Water WILL NOT be provided, please bring your own.
Submitted by:
Don Higgins, SRC, R-1
gladiator6988@hotmail.com