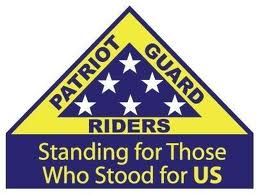 HOTH Mission
Wreaths Across America
Saratoga National Cemetery

Schuylerville, New York - 16 Dec 2017

---

ABOUT THE MISSION:
Patriot Guard Riders; We have been requested to participate in the annual Wreaths Across America ceremony at Saratoga National Cemetery.

Our first participation was in 2009 where there were, maybe, 250 wreaths donated. Every year since then the ceremony has gotten bigger and more wreaths have been ordered and received. A few years ago the PGR established our own sponsorship for purchasing wreaths and every year the count got bigger and bigger. Last year the PGR ramped up various "social" networking programs out to the communities and the result was an overwhelming success – 7500+ wreaths were purchased and placed.

This year with a continued and extended "full court press" public relations effort, the total number of wreaths purchased for Saratoga National Cemetery has exceeded 11,000!! For the first time since the Wreaths Across America began at SNC the long held goal of placing a wreath on every grave has been realized. The PGR sponsorship code was responsible for some 1/3 of this total. OUTSTANDING !!

Congratulations Patriot Guard Riders......

PRIMARY STAGING DETAILS: 16 Dec 2017
Primary Staging Time: 11:30 A.M.
Saratoga National Cemetery
Main Flag Pole Area
200 Duell Road
Schuylerville, New York - 12871

Ride Captain:

Special Instructions:
Begin to stage at the main flag pole.
12:00pm - Wreaths Across America kick off ceremony begins. PGR to form a flag line around the main flag pole for the duration of the ceremonies.
12:30pm - Ceremony concludes. Those in attendance will then be sent to the various sections within the cemetery.

After the ceremony at the main flag pole, members are free to go to a section of their choosing to begin the honorable placement of wreaths in accordance with the instructions everyone will receive by the Section Leader for each section.

The PGR members have traditionally been responsible for the laying of the wreaths in Section 8.

1:15pm-1:30pm - Approx - Patriot Guard Riders will be conducting a special wreath laying for 13 military and Law Enforcement veterans who have given of their lives in service to their country as well as the three Medal of Honor recipients buried in the cemetery. This special ceremony will begin in the front columbarium section and move thru Section 21, 7 and 8.

Upon entering the cemetery, please pay strict attention to parking instruction/rules.

Pray for good weather. Dress appropriately. See you there.

Flags & Water:
Flags Will NOT Be Provided, Please Bring Your Own.
Large Bike Flags will NOT be needed.
Water WILL NOT be provided, please bring your own.




Submitted By: Bill Schaaf
Position: State Captain
billschaaf@aol.com