Honor Mission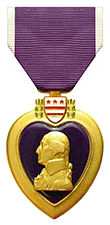 Jerome H. Salsburg, Sr.
US Army - Vietnam Veteran




Colonie, New York - 07 Dec 2017

---

ABOUT THE MISSION:
The family of Jerome H. Salburg, Sr. has requested Patriot Guard Rider participation in his military honors funeral services. Jerome, 71, passed on November 26, 2017.

Jerome was a United States Army veteran who served in Vietnam with the 199th Light Infantry Brigade, "the Redcatchers". His MOS was 11B20, Light Weapons Infantryman. He was awarded the Purple Heart Medal for wounds received as well as the National Defense Service Medal, Vietnam Service Medal and the Vietnam Campaign Medal w/device. He was Honorably discharged on 5 February 1969, at the rank of Specialist 4th Class (SP4).

After the service, Jerome worked at various jobs. He was a member of the Macedonia Baptist Church and a Life Member of the Tri-County Council of Vietnam Era Veterans.

PRIMARY STAGING DETAILS: 07 Dec 2017
Primary Staging Time: 09:30 A.M.
New Comer Funeral & Cremations
343 New Karner Road
Colonie, New York - 12205

Ride Captain:

Special Instructions:
Mission is for an escort of cremated remains from funeral home to cemetery only. Military honors services will be conducted graveside.
Calvary Cemetery
Route 9W
(South of Feura Bush/Glenmont Rd)
Glenmont, NY 12077
https://goo.gl/maps/13jtgDYnY2L2
Cagers Should stage directly at the cemetery and await the arrival of the escort. Expected arrival time approximately 10:20 - 10:30 AM.

Flags & Water:
Flags Will NOT Be Provided, Please Bring Your Own.
If you have large bike flags, please bring them.
Water WILL NOT be provided, please bring your own.




Submitted By: Ray Sestak
Position: Assistant State Captain